Alean Pulse Electric Fence Team spent 2years time developing the new fence panel, now will be faced to public soon.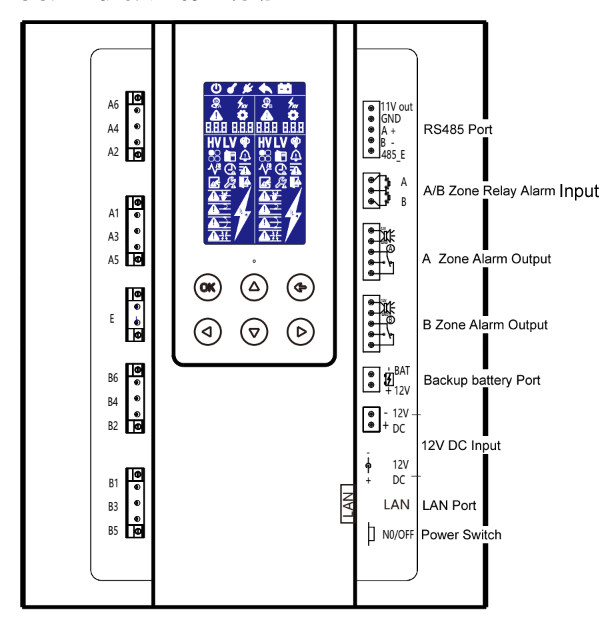 Today lets introduce the panel whats the different and whats the advantage.

1. Support powered by POE or external DC12V 2A power supply.
2. High/Low Voltage cable divided for output.
3. With LCD Screen,and iconied for the interface.
4. with 6buttons on the first page.
5. Support RS485/ POE Communication , With RJ45 TCP/IP
6. Support 2CH Alarm relay output.
7. Support each zone different settings.
8. Zone number:1-255, 0Means turn off current zone.
9. Support alarm status: trouble/short circuit/break wire/ touch wire, anti cut, anti tamper for outter box, anti tamper for fence panel/ power off, higher voltage/ lower voltage alarm status.
10, support save 255 of alarm records.
11. Hight Pulse output frequency adjustable: 2times/S, 1Time/S, 1Time/2S.
12. Alarm Duration : 0∽255 S adjustable.


Specs:
Power Supply: DC12-2A+POE supply
Backup power Lead-acid battery , built-in, 12V 980mAh
Peak pulse current: <10A
Pulse duration: ≤0.1S
Pulse Interval Time: 0.5∽2S able to adjust it.
Maximum power of pulse output: ≤2.5mC
Maximum energy of pulse output: ≤5.0J
Peak output voltage: High voltage 3kV~6kV/ Low voltage 0.5~12kV
Avarage Consumption: <3W
Weight: <3KGS
Dimension: 290*230*82mm
Temperature: -30~+55℃
Humidity: ≤95%

Wire Connections: